Tax Relief Consultants in Los Angeles
Here at Instant Tax Solutions, we are blessed to be able to work with great people who are not only experienced with their jobs, but passionate about them.
They bring hundreds of years of combined experience in the tax, financial and legal industries to our tax relief firm right here in the United States.
100% of our tax lawyers, consultants and employees are right here in the US. They all know each other, have their kids play sports together, and are here to help you get the results that you need.
Ian and Rebekah Woodman
Owners
Ian Woodman is the founder of Instant Tax Solutions. Ian studied accounting while attending college at C.S.U.N. in California. Ian has owned various businesses since 1997, but chose to get into the tax resolution industry in 2008, when he realized there was a need for tax payers to find honest and ethical tax help.
Ian's vision of Instant Tax Solutions has always been to provide honest information to clients, which includes a free consultation, a flat fee, and impeccable customer service from the first time a client calls until the final resolution of the client's tax problem.
Ian enjoys vacationing with his family, watching his kids play sports, attending concerts, and going to amusement parks.
Becky works at Instant Tax Solutions part-time to assist in the accounting department. Becky attended North Idaho College while seeking her nursing degree. Becky brings her caring and creative mentality to ITS, which benefits all our clients greatly.
Becky spends most of her time raising 4 kids and watching all the sports they play. In her free time, she enjoys going to the beach, taking vacations, or just sitting around a fire pit with friends.
John Nelson
General Manager / Senior Tax Consultant
John Nelson, General Manager at Instant Tax Solutions, is an accomplished professional with over 23 years of experience in business management, human resources, training, and consulting. With a mindset of service and advocacy, he is responsible for supporting and managing the daily business operations, brand management, and strategic business development.
Prior to joining ITS, John was a District Manager in the banking industry. His greatest strengths are his vision, drive, and leadership. John thrives on challenges, particularly those that succeed client expectations – never over-committing and under-delivering.
John holds a BA in business from College of Idaho. In his free time, John's hobbies include anything and everything sports.
Garrett Snyder
Tax Resolution Manager
Garrett is the Resolution Manager at Instant Tax Solutions and utilizes his in-depth knowledge of accounting and taxation to advocate for his clients and support his team.  Throughout his career, he has prepared Corporate and Individual tax returns, managed tax resolution firms, managed the accounting department for a manufacturing company operating in 45+ states, and negotiated with the IRS on behalf of thousands of taxpayers.
Garrett likes to say he is a fan of Idaho and travelled throughout Idaho for his education.  He earned his A.S. degree from North Idaho College, his B.S. degree in Accounting from the University of Idaho, and his Master of Accountancy, Taxation from Boise State University.
Outside of work, Garrett enjoys travelling to different countries and currently has visited 20+ different countries.  He also enjoys many different sports including lifting weights, mountain biking, cliff jumping, basketball, and racquetball to name a few.
Rebekah Eaton
Assistant Tax Resolution Manager, C.P.A. and E.A.
After spending over 15 years in banking and financing, Rebekah shifted her career to Tax Resolution. She holds a Bachelor's in Business and Finance and is dually licensed as a Certified Public Accountant & Enrolled Agent, allowing her to work directly with all States and branches within the IRS. For the past 10 years, she has fought with a passion for her clients. She came to Instant Tax with a vast knowledge of the IRS practices and procedures. She has successfully negotiated large cases and works well with any Revenue Officer, Settlement Agents, Appeals, and even the Department of Justice to help her clients navigate through the frustrating and often terrifying waters of the IRS.
Rebekah excels at customer service, truly listening to what her clients need, and helping them succeed is something she takes pride in. She has a passion for what she does, and it shows!
On a personal side, she enjoys her family, friends, and two beautiful dogs, she truly appreciates each moment she has with them. She is an avid runner and enjoys biking and swimming; she is often found training on the weekends for Marathon's or the occasional Triathlon. She also enjoys many other outdoor activities such as hiking, boating, camping, traveling, and sightseeing.
Steve Sherer
Tax Attorney
Clients benefit from Steve's extensive knowledge of IRS procedures and the Tax Code. His years of experience applying that knowledge in administrative hearings and negotiations before the IRS have made him a powerful force on the side of troubled taxpayers.
Steve has his Bachelor's Degree from California State University, Chico and his Juris Doctor with a Taxation Concentration from University of Pacific. His background includes over ten years of experience as a Tax Attorney working in the Tax Relief industry.
Relocating from Northern California to North Idaho in 2014, Steve enjoys the mountains, trees, and the rustic–yet vibrant–atmosphere that the Inland Northwest has to offer.
Jennifer Halverson
Attorney
Jennifer has worked in the tax resolution industry for over 15 years and is passionate about advocating for her clients. Jennifer earned her JD from the University of Louisville and her Master's in Environmental Law, with focus in dispute resolution, from Vermont Law School. Bringing her legal background and passion for dispute resolution together, she uses her experience working with both the State & IRS taxing authorities to ensure successful outcomes for her clients. Jennifer truly enjoys working with people from all walks of life and being able to navigate through the resolution process on their behalf.
Outside of work, Jennifer enjoys being outdoors and is often found in the mountains, skiing & hiking or on her bike exploring the trails surrounding her home. She enjoys camping with her family & friends and traveling to new places.
Eric Joseph
Case Manager, E.A.
Eric's in-depth experience and strategy of representing clients before the IRS and State, has helped clients of Instant Tax Solutions for over 8 years. Before joining ITS, Eric worked for the IRS as an Auditor and Revenue Agent for 17 years. Eric graduated from University of Texas with a Bachelor's degree.
In his spare time, Eric enjoys swimming, diving, and traveling the world.
London Gray
Case Manager, E.A.
Jennifer Leonhardt
Case Manager, E.A.
Jen is a loving wife and a proud navy mom to her two amazing children.
She has held many management roles through her career life but left those roles behind and went in search for an opportunity to help people. Jen stepped into the tax debt relief industry in 2013 and quickly realized this is where she needed to be.
As an Enrolled Agent along with her compassion and strong will, Jen continues to receive heart felt satisfaction in helping people lift their burden of tax debt from their shoulders.
When not at the office, Jen is always with family and friends enjoying life, especially if she is at the lake or river.
Elizabeth Schurman
Case Manager, E.A.
After Elizabeth received her Bachelor of Science degree in Business Administration with the Accounting Emphasis, she began her accounting career preparing income taxes for popular tax franchises such as Liberty Tax and Jackson Hewitt.  Elizabeth then came to work at Instant Tax Solutions preparing income taxes.  She earned her Enrolled Agent license to practice before the IRS and state tax boards.  Later in her career, Elizabeth took a position to work for a Certified Fraud Examiner where she acquired skills to recognize potentially fraudulent activity.  She provided income tax services as well as audits, tax planning, bookkeeping and asset valuations.
Because of her many years of studying tax subjects and providing customer service, Elizabeth is most compassionate for helping taxpayers with their tax matters.  Educating folks about their taxpayer rights and tax obligations in expectations to prevent any further tax issues has been the most rewarding accounting service Elizabeth has provided in her career and she is glad to be back at Instant Tax Solutions.
Michael Kabealo
Case Manager, E.A.
As a Federal Enrolled Agent, Mike describes his role as a Case Manager as one of which he has been fighting for the rights of American taxpayers for over 12 years. Mike is a graduate of Ohio University in Athens, OH.
He enjoys spending time outside with his kids and traveling the globe with his wife of 15 years.
JoDean Hysom
Case Manager, E.A.
After graduating from Eastern Washington University magna cum laude with a BA in Accounting and Management Information Systems, JoDean went into tax preparation and brings to ITS over 9 years of experience.
Additionally, JoDean volunteers for VITA and AARP. Her off-the-job interests include being outdoors with her family, camping, hiking, watching movies, and crafting.
Tom Burke
Tax Preparer, C.P.A.
Tom joined Instant Tax Solutions in 2017. Tom has graduated with a BA from Eastern Washington University with honors, Magna Cum Laude. He also has 2 related degrees in accounting and business from Spokane Community College. He has recently passed the uniform CPA examination and is on his way to becoming a CPA.
When Tom is out of the office he enjoys being outdoors, visiting family, and is a huge fan of sports.
Marisha Crider
Tax Preparer
Marisha joined our firm in the Summer of 2019 and brings with her over 20 years of Accounting/Tax Preparation experience. She loves to use her many years of expertise to educate and assist her clients with their tax & accounting needs.
In Marisha's free time she loves to read, travel with her family to anywhere involving warm beaches, and do various arts and crafts.
Dustin Byrne
Tax Preparer
Dustin joined Instant Tax Solutions in 2021, and brings over 5 years of Accounting, Finance, & Tax preparation experience to ITS.  A born problem solver, Dustin prides himself in his passion to assist others in overcoming the inevitable hardships of life and achieving financial freedom.
He is also currently pursuing his EA, with the goal of eventually becoming a Tax Attorney.
He enjoys kayaking, sailing, playing guitar, rock hounding, fishing, adventuring, or just staying at home with his wife and two cats.
Shane Clift
Executive Administrative Assistant, In-House Tech Support
Shane joined Instant Tax Solutions in 2009, with 15+ years of office experience, and wears many hats at ITS. Shane is responsible for providing administrative support to the Resolution team, troubleshooting in-house tech issues, following up with clients, and preparing necessary documents throughout the process of resolution.
Rick Johnston
Administrative Assistant
Rick has been with Instant Tax Solutions since 2010. Coming to ITS from a 15 year career in a lumber mill, Rick has adapted amazingly over the years to become one of the longest tenured employees at Instant Tax Solutions. His casual and easy going mentality makes it a pleasure for all of our clients and fellow employees to work with.
In Rick's spare time he enjoys spending time with family, camping, fishing, and everything outdoors.
Elijah Woodman
Administrative Assistant
Elijah joined the Instant Tax Solutions team in 2014 as a receptionist directly out of high school. Due to his prior commitment to the Armed Forces, Elijah left for 2 years and returned in 2017 and became an administrative assistant.
Elijah has shown both growth and maturity since becoming an employee at age 18. He spends most his time with his new wife. In his spare time, Elijah enjoys playing sports, video games, concerts, and traveling.
Jessica O'Clock
Administrative Assistant
Jessica joined our team in 2017 as a receptionist. Due to her hard work and dedication to our clients, she is now an administrative assistant for our firm. She worked as a cosmetologist before coming to Instant Tax Solutions. She has an extensive work history entailed with customer service.
Jessica has 2 kids and when she isn't spending time with her family, she loves to spend her free time either reading or enjoying the outdoors.
Katey Knaack
Administrative Assistant
Katey was welcomed to our team in 2019 as a receptionist and has since moved into her current position as Administrative Assistant. While working at Instant Tax Solutions, she is also going to school full time to graduate with her Child Development degree. Katey has outstanding customer service and welcomes everyone who enters our office with a smile.
Katey is also a part of the NIC Women's soccer team. She is always staying busy, but when she has some free time, she is spending it with her family and friends. She is the oldest of four siblings and does everything she can to be the best role model for her siblings.
Alyssa Bryson
Administrative Assistant
Alyssa joined Instant Tax Solutions in 2020 after returning from college at Grand Canyon University in Phoenix.  Alyssa received her AA from North Idaho College while still being in high school.  This drive and compassion to succeed has made her a perfect fit for our company.  She plans on studying for the Enrolled Agent's exam, and finishing this in 2021.
Alyssa loves working out, being outdoors, spending time with her family, but most importantly her dog Lacy, who she loves spending all her extra time with.
Maria Pfeiffer
Administrative Assistant
Maria joined the ITS team as a receptionist, but quickly transitioned to an administrative assistant. She has over 10 years of experience in various customer service positions including her most recent past employment as a receptionist and surgery coordinator in a dental office. Maria currently holds a BA in Liberal Arts as well as a CompTIA A+ certification.
In her free time, Maria enjoys hiking with her dog, reading, and trying new things such as artisanal baking and photography. She also loves visiting with her parents, 13 siblings, and friends.
Maureen Pfeiffer
Administrative Assistant
Alise Tanner
Front Office Manager
Alise joined our team in 2017. She started as a receptionist and her drive has allowed our firm to assign many different job activities to her, which includes handling Excel tracking for the owners, all IT customer service, Accounts Receivable, procedural development; and many other items.
Alise has a Paralegal Certificate from North Idaho College. Prior to working at Instant Tax Solutions, she was a paralegal for an attorney in Spokane, Washington.  Alise has more than 7 years of office experience, and she enjoys finding new ways to make our company function more efficiently.
Alise has two daughters (9 and 12) whom she positively adores. In her free time she immensely enjoys reading, writing, gardening and camping.
Brenna Tanner
Receptionist
Brenna joined our firm in 2018 as a receptionist and is one of the first faces people see upon entering Instant Tax Solutions. She brings with her a bachelor's degree in general studies, as well as extensive volunteer and work experience in assisting children and families within the community. She takes pride in providing excellent customer service by greeting each new client with a sense of comfort, and genuine sincerity.
Brenna enjoys new and exciting experiences, hiking, swimming, reading, and spending time with her 3-year-old son, who is an avid bowler.
Stacy Leslie
Accounts Receivable
Stacy joined our firm in 2016 after relocating to the area from Southern California. Her warm personality and ability to communicate with clients makes her a valuable team member at Instant Tax Solutions. When you reach her, her calm manner and smile shines over the phone. Stacy has over 11 years' experience in the tax and accounting industry and holds a Bachelor's degree from California State University of Fullerton.
She is also a proud mother of four wonderful children. She is happiest when reading a book and spending time with her family.
Glen Barber II
Senior Tax Consultant
Glen Barber II joined Instant Tax Solutions in 2009 as an experienced consultant. Glen consults with a diverse array of clients on a daily basis, helping liaise between our clients and the resolution team to ensure an exceptional client experience. He achieves this objective by going through the initial consultation and then preparing a resolution strategy based on our clients' current financial situation and their objectives for resolution.
Prior to consulting, Glen served 7 years in the US Army. He also earned an Associate's Degree from Angelo State University. Outside of ITS, Glen enjoys hiking, fishing, camping, hunting, snow skiing, sports, and travelling.
Aaron Brumfield
Senior Tax Consultant
Aaron Brumfield, Senior Tax Consultant brings over 25 years of professional marketing and business development experience to Instant Tax Solutions. Aaron is responsible for business development, taxpayer consultations, and customer service.
Prior to joining ITS, Aaron was involved in business development with Qwest and Verizon Directories Corporation. He also served as a Marketing Director for a local cutting edge Media Technology Company. Aaron's strengths include leadership and figuring out creative ways to help clients.
Aaron holds a BA in English/Business Option from Washington State University. In his free time, Aaron enjoys family, outdoor activities, and sports.
Jace Rutherford
Senior Tax Consultant
As an experienced Senior Tax Consultant, Jace consults with clients to help get them the relief they need. When things need to happen quickly to get a wage garnishment or bank levy addressed, Jace walks clients through the complete resolution process in an efficient and comfortable manner.
Jace is actively involved in coaching the area's youth, teens, and young men in baseball. He also enjoys spending time and travelling with his wife and 4 boys.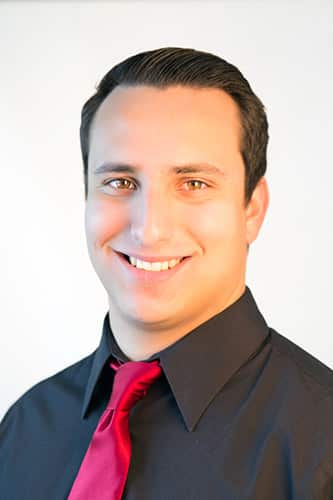 Avery Woodman
Senior Tax Consultant
Avery is working as a consultant at Instant Tax Solutions, while finishing his senior year at the University of Northern Colorado. He will graduate with a degree in Business Marketing in May of 2020 and move back home afterwards to continue his career with our company.
While not working or attending classes, Avery enjoys spending time watching sports, attending concerts and traveling.